Your old oil
Did you buy new HTF from us or are you planning a change and suddenly think "what am I going to do with my old oil". Well that's very simple.
Call 06 10 27 52 11. Because we at Rodun International BV regularly received this question, we went looking for the solution and we found it.
This applies to ALL your waste oil, lubricants or other chemicals.
We have found a cooperation partner that is just like us, flexible, thinking along and always available. We can also be at your service in the Netherlands and Belgium.
There are several vacuum trucks available. These vacuum trucks can dispose of up to 30,000 liters of old and/or used oil.
If you have old oil that needs to be removed from a buffer tank, please contact us.
Do you already have waste or old oil in storage and do you want to get rid of it?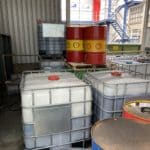 Your drums, IBCs and jerry cans can be removed by us.
Ask about the possibilities.
We are as you expect from us quick and competent to speak